Dr Sid was recently in England on Tour. Whilst here, he willingly spoke to us on a number of topics ranging from his recent engagement and forthcoming nuptials to the evolution of his music over the last 10 years, Mavin Records amongst other things. Find excerpts below; 
Last year was officially your 10th year in the Nigerian music industry, how would you say you have evolved through the years?
I think Dr SID has become a more rounded artiste. I understand my sound better and I am a much stronger performer. I think I understand the business of music better too.
Reflect upon your time with Eldee and the Trybe, what would you say you learnt while with them? How's your relationship with the former members?
I learnt how to be a team player, the essence of being part of a movement that is bigger than the one individual and most importantly loyalty.
I still hang out with the guys from Da Trybe once in a while, we have a very good relationship.
With your new album Siduction currently on sale, how has your sound evolved from your first album, Turning Point?
Oh yes I'd say it has definitely evolved. 'Siduction' like 'Turning Point' is a complete album with a variety of sounds that appeal to various people, but 'Siduction' is a more mature album and I am more comfortable with my delivery of the songs. I think the 'Siduction' album shows my growth as an artiste.
How do you feel the public has accepted the singles from Siduction thus far?
I think the overall reception has been good. The music on the album has a lot of variety so there is a song on there for everyone. Some people enjoyed some of the singles more than others.
What other visuals should we expect from the album?
I've release visuals for 'Talented', 'Love Mine', 'Surulere' and 'Kilon Wa'. I also have 4 more videos ('Chop Ogbono', 'Princess Kate', 'Nwayi Oma' w/ Emma Nyra and 'Baby Tornado' remix w/ Alexandra Burke) in edit at the moment waiting to be released. I intend to shoot videos for songs like 'Oyari' w/ Tiwa Savage and 'Dr Lover' w/ Ice Prince.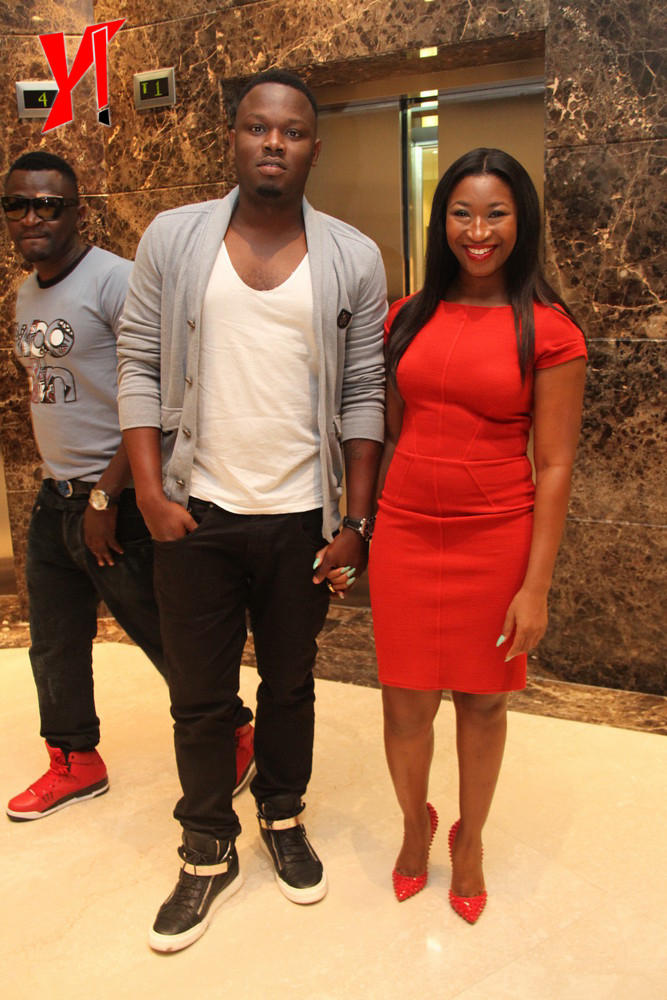 The album has a very romantic vibe, how much of an influence was your significant other on your writing?
My relationship definitely influenced a few songs, as musicians we write from personal experience as well as experience of others or to shed light on topics so the songs on the album were born out of various influences.
What effect does your celebrity status have on your relationship?
I'm in a very understanding relationship so it really isn't an issue she gets me and I get her and that's what matters at the end of the day.
Was 'Love Mine' about your significant other?
Yes, she inspired it. It described the way I was feeling at the time and I think it's a beautiful song.
How is your new life as a married man?
When I get married I'll let you know.
How much do you know about the new Mavin signings, Di'Ja, Reekado Banks and Korede Bello? Have you been in the studio with them?
I have known Di'Ja for a long time. I didn't know in 2014 we would end up on the same label but as God would have it, we are and she's a very talented and creative artist. Korede Bello and Reekado Banks are two gifted young men. All three are talented vocalists and are poised to take the world by storm. When I'm not out on the road touring or doing press, we are practically in the studio all the time.
It's a very exciting time reminiscent of the days in Mo Hits.
Which upcoming acts are you feeling at the moment?
PatoRankin.
Runtown.
Tolu.
Yemi Alade.
SeleBobo.
Excluding your album and anything from Mavin, what are your favorite Nigerian albums at the moment?
Ice Prince's 'Fire of Zamani', Burna Boy' s 'L.I.F.E' and Olamide's 'BGEL'.
How was your experience hosting the Headies last year?
It was interesting. Definitely a lot of hard work. I have a lot of respect for people who host day in, day out. It was a lot of fun especially hosting with Tiwa. I felt honored and I look forward to doing it again.
Being a qualified Dentist, do you plan to branch out of music later in the future?
I don't plan to practice but I do plan on opening a clinic at some point. For now I'm focusing on my foundation that focuses on youth development education and oral heath awareness.
Shed some light on your cookie line 'Indulge'. 
Indulge was a business venture I went into with a friend of mine, Chef Eros. Sales are doing very well and we are looking at expanding.
You recently finished toured the UK, what city would you say gave you the most energy?
The energy in all the cities was high but, if I had to pick one I'd say Birmingham.
Thank you Dr Sid for talking to the Culture Custodian, what can your fans except from you and Mavin Records this year?
I have always been about pushing boundaries and that's what I intend to do with my music and videos this year, I'm definitely going to be touring more. I'm getting married so I've got a wedding to plan. Mavin is gearing up to takeover the music industry. We have a strong lineup of talent and creativity so the possibilities are limitless. I'm excited about the future.