French president, Emmanuel Macron acknowledged Mamoudou Gassama for his brave act at a meeting in the Elysée Presidential Palace on Monday.
Avec M. GASSAMA qui a sauvé samedi la vie d'un enfant en escaladant 4 étages à mains nues. Je lui ai annoncé qu'en reconnaissance de cet acte héroïque il allait être régularisé dans les plus brefs délais, et que la brigade des sapeurs-pompiers de Paris était prête à l'accueillir. pic.twitter.com/xMpFlP1UFe

— Emmanuel Macron (@EmmanuelMacron) May 28, 2018
President Macron praised Gassama, an undocumented migrant from Mali, for his "exceptional act" in Paris yesterday and added: "We're going to regularise all your papers and if you wish, we will initiate a naturalisation procedure so that you can become French, if you so desire." Gassama was further presented with the medal for bravery and offered a job in the fire department.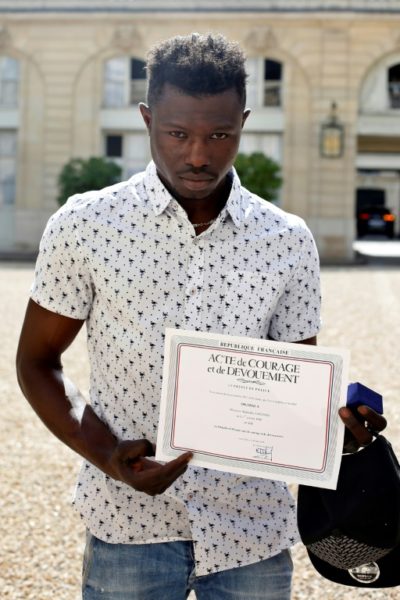 The Malian man has been all over the internet due to his selfless act that saved the life of a 4 year old boy hanging from the fourth floor of an apartment in Paris, France.
Watch 22 year old Mamoudou Gassama heroically scaling four stories of a building when he sees a toddler about to fall to a certain death. When he began climbing the neighbors did not have ahold of the child's arm yet. pic.twitter.com/67EsUmzwFN

— Ray [REDACTED] (@RayRedacted) May 28, 2018
The Mayor of Paris, Anne Hidalgo also praised the young migrant on Twitter for his "act of bravery" as well as phoning him personally to "thank him warmly."
"He explained to me that he had arrived from Mali a few months ago dreaming of building his life here I told him that his heroic act is an example to all citizens and that the city of Paris will obviously be very keen to support him in his efforts to settle in France" she added.
President Ibrahim Boubacar Keita, the President of Mali also called into the embassy to congratulate Gassama and thank him for "honoring all of Mali."
On his heroics, Gassama said:
"I saw all these people shouting, and cars sounding their horns. I climbed up like that and, thank God, I saved the child, I felt afraid when I saved the child… (when) we went into the living room, I started to shake, I could hardly stand up, I had to sit down."
Going on further on being rewarded, he said:
"I'm pleased because it's the first time I've received a trophy like that"
Source: AFP