2019 is creeping closer on the calendar every day, and in the world of box office, it's never too early to start planning ahead for the next movies and TV shows that will blow everyone away — and while we're all busy figuring out what we're going to do next weekend, the major studios are all already filling up their slates with releases we don't want to miss.
From John Boyega and Letitia Wright in "Hold Back the Stars" to Jordan Peele's "Us," these films have us pretty excited about cinema in 2019.
The Lion King
The trailer for this live action remake of the Disney classic, dropped to much fanfare in November. Members of the animal kingdom are voiced by some of the industries biggest stars such as Beyoncé, Childish Gambino, amongst others.
The Woman King
TriStar Pictures has acquired worldwide rights to Dahomey Amazons of #Benin spartan tale "The Woman King," inspired by true events.
Film to star Viola Davis and Lupita Nyong'o#film #blackhistory365 #zkblast https://t.co/BeoJb8rCfF pic.twitter.com/gXRjX08vje

— Zimbabwe Kid Blast (@ZKBLAST) March 2, 2018
https://platform.twitter.com/widgets.js
Two of Hollywood's most formidable actresses, Viola Davis and Lupita Nyong'o will play mother and daughter in "The Woman King," a historical drama based inspired by the Dahomey Amazon Warriors—the 18th century all-women military regimen who fought of French colonizers in present-day Benin.
Little
.@IssaRae joins @MarsaiMartin's highly-anticipated film debut, 'Little,' from the team behind 'Girls Trip' https://t.co/vcIlbYJTR5 https://t.co/vcIlbYJTR5 pic.twitter.com/1RtzhK6csI

— Shadow and Act (@shadowandact) May 3, 2018
https://platform.twitter.com/widgets.js
This project is the brainchild of 13-year-old Black-ish star Marsai Martin. Issa will star as "a woman who gets the chance to relive the carefree life as her younger self (Martin), when the pressures of adulthood become too much," according to a summary in Deadline. The film will head to theaters in September 2019.
Us
— Jordan Peele (@JordanPeele) May 9, 2018
https://platform.twitter.com/widgets.js
Black Panther costars Lupita Nyong'o and Winston Duke will star in the highly-anticipated follow up to Jordan Peele's Get Out.. Though plot details remain unknown, the film is described as an "original and provacative thriller." If it's anything like Get Out, Peele can surely take our mone
Hold Back The Stars
We're getting a #StarWars/#BlackPanther crossover — ok, it's just John Boyega and Letitia Wright playing lovers, but it's all I can think about now.https://t.co/MPLJwDmIp3 pic.twitter.com/ZPqNcJC1Ft

— LAdynerds 👸 (@LAdynerdsMeetup) November 9, 2018
https://platform.twitter.com/widgets.js
This upcoming film, starring John Boyega and Letitia Wright is the black sci-fi romance we didn't even know we needed. It's being described as "Romeo and Juliette meets Gravity." The two actors will portray lovers stuck in space, fighting to live with only 90 minutes left of oxygen. The suspense is already killing us. We're willing to bet that these young actors will make for an unforgettable onscreen duo.
The Boy Who Harnessed The Wind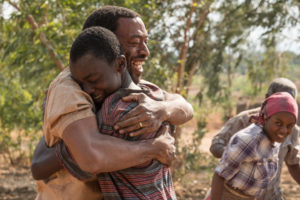 Chiwetel Ejiofor's directorial debut is based on the amazing story of the Malawian inventor William Kamkwamba who at 13, built a windmill from bike parts in his small town, helping stave off famine in his village. The screenplay was written by Ejiofor and the film will premiere on Netflix next year.
Ghetto Cowboy
Idris Elba Sets 'Ghetto Cowboy' as Next Film https://t.co/r211vHGvdO pic.twitter.com/VLShYgK9KW

— Devin Mills (@DevinmillsLA) August 9, 2018
https://platform.twitter.com/widgets.js
Idris Elba will produce and star in a film adaptation of the novel Ghetto Cowboy by Greg Neri, about black horseriding communities in north Philly. "This story was built out of a deep friendship and collaboration with the riders of North Philly, and I couldn't be more excited to honor their legacy with this film," said the film's director Ricky Staub
American Princess
Exclusive: @IssaRae to star in @paulfeig comedy 'American Princess' https://t.co/HDTXW5DVZE pic.twitter.com/Zk2lwADKKH

— Hollywood Reporter (@THR) October 10, 2018
https://platform.twitter.com/widgets.js
Issa Rae, who made her big screen debut this year with a role in The Hate U Give will also star in her first romantic comedy about an American woman who moves to London, where she becomes part of high society and falls in love "in a very unexpected way." The films script was created by Nigerian-American writer, Amy Anobi who also works with Rae on Inse
.