As 2019 comes to an end, it gladdens the heart that Nigeria's music scene has had an interesting run. We witnessed the revival of conscious content and awakening in some relatively unexplored genres. There were many individual and general industry gains as well as introductions to a variety of sounds that might remain with us beyond 2019. In this piece, we look at the conscious projects of 2019 that dominated discussions and would remain in our conversations beyond this year. They are listed in order of their release.
Project name: These Buhari Times
Artiste: Show Dem Camp
Release date: January 1, 2019
Coming into an election year, there was palpable tension tinged with lost hopes in the Nigerian community. The times are getting harder on a daily basis with dashed hopes and failed promises. To help ease that pain, we had SDC's Ghost and Tec hit us with a tape that reflected general feelings in These Buhari Times. The year started well for the conscious-minded music lovers. The tape, released on the first day of the year, is the fourth installment in their Clone Wars series and saw the prolific duo deliver relevant narratives to fit the distressing times that we live in. Highlighting complex Nigerian situations from track to track, the duo cleverly provides commentary on herdsman's attack, SARS' harassment, unemployment, internet scams, sex work, and topics like masculinity and depression seldom discussed in our society. The tape was well accepted by fans, dominated discussions and set the bar high for what would be a great year in Nigerian music.
Project name: Moral Instruction
Artiste: Falz
Release date: January 15, 2019
Reinforcing the mirror-of-society themes in the SDC tape released on the first day of the year, Falz released Moral Instruction two weeks after. Another important album dropped in 2019, the album's artwork designed by Lemi Ghariokwu gives a peek into the content of the project. On Moral Instruction, music activism came alive early in 2019. The music was simple enough for the average Nigerian listener to relate to but detailed enough to pass its explicit messages, Falz re-awakened our napping moral and political consciousness with the release of his fourth body of work. The album follows Falz's tradition of protest started by his late 2018 release, This Is Nigeria, a cover version of American rapper Childish Gambino's This Is America. The song, critical of all that is wrong with the Nigerian society, drew criticisms and praise from various quarters and served as a perfect forerunner for the Moral Instruction project that earned him the best rap album award at the 13th edition of the Headies award. The Moral Instruction album, a sublime picture of everyday Nigerian problems and reality, was a sharp turn from the zanku-themed music that ruled airwaves at the time of its release and is filled with enough social explication to help grasp the situation of things in the country. The many problems referenced on the album sparked genuine conversations that went on throughout the year and will be talked about even beyond the year.
Project name: African Giant
Artiste: Burna Boy
Release date: July 26, 2019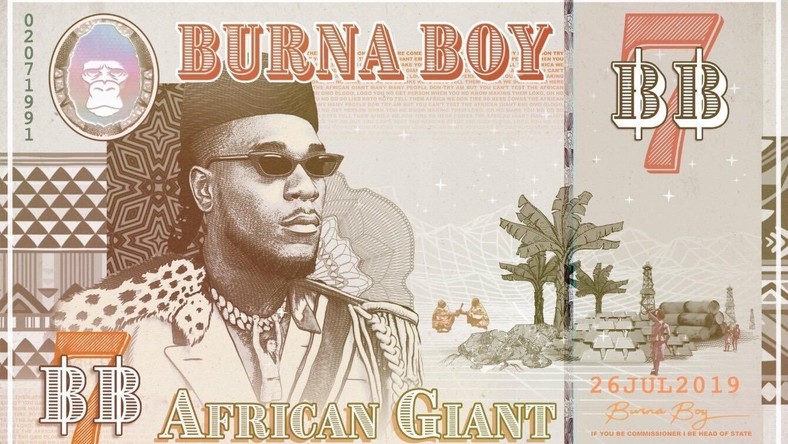 Arguably the most deliberate African album of the year, African Giant is a superb body of work from a brilliant mind. The initial brouhaha that kick-started the album campaign is in itself a call to re-evaluate how African acts are perceived by the outside world. With a dual theme of love and socio-political consciousness, the political narratives in the project are not altogether new to us; but, coming at a time when the bulk of afrobeats works are devoid of social and political commentary, African Giant rekindled the charged social and political themes of the genre as originated and utilised by Fela Kuti. With an album artwork reminiscent of the old ten Naira note, Burna Boy draws from his sonic lineage to bring his art to life. On one of my favourite tracks from the album, Collateral Damage, he echoes the Nigerian distress: "My people suffer well well/Police dey slap here well well/Hungry dey wire dem well well" and Another Story begins with a brief but informative history lesson on the origin of the British colonialism of Nigeria. This particular track started many conversations bothering on the identity and imagery of the Nigerian state as an independent entity, the suffering that has lingered from independence, and the similarities in problems within African nations. The track featuring Damian Marley and Angelique Kidjo Different delivers a conscious theme on a global scale: "Different election sell a different false hope/Then them hang us with a different rope." Damien Marley drew similarities between all humans against racism and segregation: "Although we different still we similar/Every man bleed blood/that's a big similarity/Seven billion show one cinema/One world we live inna."  With a Grammy nomination, African Giant is sure to remain relevant for quite a long time.
Project Name: The Erigma II
Artiste: Erigga
Release date: October 4, 2019.
Warri does not get more vivid than this. The Erigma-II, a sequel to the 2012 Erigma album that saw the artiste receiving a Headies lyricist on the roll nomination, is a dossier on inner-city life with Warri as the muse. Erigga, a peculiar and regionally indigenous rapper who spits in local pidgin parlance, reminds the world of how hard-hitting life on the streets can be. He explores themes about drugs, sex, family, poverty, and love. The album is a musical representation of the grotesque realities plausible while living in a typical Nigerian ghetto. Although one can easily get carried away by the beats of each track and miss out on the beautiful storytelling, the project remains filled with indigenous lyrical gems from track to track and should remain a reference for regional indigenous rap as far as 2019 projects go.
Project name: Lucid
Artiste: Asa
Release date: October 11, 2019.
Five years after her last project, Bed of Stone, Asa releases her latest and most heartfelt album titled Lucid. An emotionally charged album that paints pictures of love and heartbreak. The first track on the album Murder In The USA is quite heavy on the emotions. The song, inspired by an episode of a Piers Morgan documentary on women who kill, tells a tragic story about a woman who kills her lover and flees. Going on in the album, Asa displays her artistic brilliance by driving home her point on the lucid journey of love – the good, and the bad tales. In Lucid, Asa educates listeners on the many assumptions of what love is. It's not always a beautiful bed of roses. There are moments of numbing pain and intense moments of pleasure. This is the message encapsulated within the Lucid album. 
Honorable mention
Worthy of an honorable mention is the Alternative Ending tape from rapper duo, Paybac and Boogey, released under their moniker – The Lost and Found. The tape which is a sequel to their 2016 Face Off project delivers a brilliant blend of African and hip-hop melodies over authentic beats. It's a creation of distinct sounds that only these two can pull of. The lyrical content takes this project to another level of greatness and was widely accepted as one of the best rap projects to come out of Nigeria in 2019.